Blue Cross Blue Shield of Arizona…proud sponsor of MMDT
Singing the back-pain blues? Yoga may be a treatment worth trying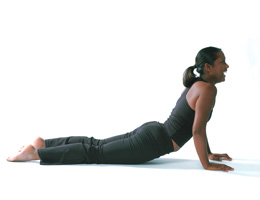 Feb. 20, 2017—Could striking a yoga pose help ease a stiff, achy back? There's good evidence that it can, according to researchers.As many as 8 in 10 Americans have back pain at some point in their lives. And for many it will become chronic, lasting three or more months. Researchers wanted to know how well yoga improves back function—the ability to walk and move without pain.

A new look at old data

Researchers reviewed a dozen previous studies of more than 1,000 people. Some of the studies compared yoga to other treatments, such as receiving a self-care booklet or doing physical therapy.

They found low-certainty evidence that people using yoga (compared to no exercise) had improvements in back function and moderate-certainty evidence that yoga was helpful after six months. Similarly, there was very-low-to-moderate-certainty evidence for an improvement in pain at 3, 6 and 12 months. But there weren't enough studies comparing yoga to conventional exercise to determine whether yoga worked any better, according to the study.

While some people who practiced yoga noted increased back pain, other back exercises may have the same risk, the researchers found.

For more details, check out the study in the Cochrane Library.

Your path to less pain?

If your chronic low-back pain doesn't have a specific cause, yoga could be a treatment worth trying. You may want to try other forms of exercise too, according to the National Institute of Arthritis and Musculoskeletal and Skin Diseases. Various stretching and bending exercises may help with chronic pain. Exercise is among a handful of approaches to pain relief that don't involve strong painkillers or surgery.

If you also want to try yoga, some poses may need to be carefully adapted for back pain, according to the National Center for Complementary and Integrative Health (NCCIH). The NCCIH also recommends that you:
Talk with your doctor before starting any new exercise program. This includes yoga.
Don't use it to replace any conventional care you're receiving.
Find a certified instructor if it's your first time trying yoga. Make sure to tell him or her about your back pain.