Meet Me Downtown
MMDT... Building Community Through Fitness
Big Changes Coming for MMDT!
The last day of Meet Me Downtown Phoenix (MMDTPHX) will be on Monday, February 26. Over the past three years this event has built a community through fitness, with total attendance of more than 23,000 (4700 registered participants of all ages.) It provided people a weekly social walk/run that engaged individuals and businesses in a vibrant event that showcased downtown Phoenix as a prime location for fitness activities. This could not have been possible without the title sponsorship of our proud partner, Blue Cross Blue Shield of Arizona. The City of Phoenix and FitPHX would like to sincerely thank BCBSAZ for their title sponsorship for this event over the last three years. In addition, City of Phoenix and FitPHX would like to acknowledge other supporting partners who helped make this event possible each week; Meet Me Concepts, Downtown Phoenix Inc., Sole Sports Running Zone, The Park Street Food and Bar, Phoenix Parks Foundation, BBVA Compass Bank and all our participating "Meet Me" Restaurants. FitPHX, the citywide health and wellness initiative is committed to providing free, innovative recreation and fitness programming to help you accomplish your health and wellness goals.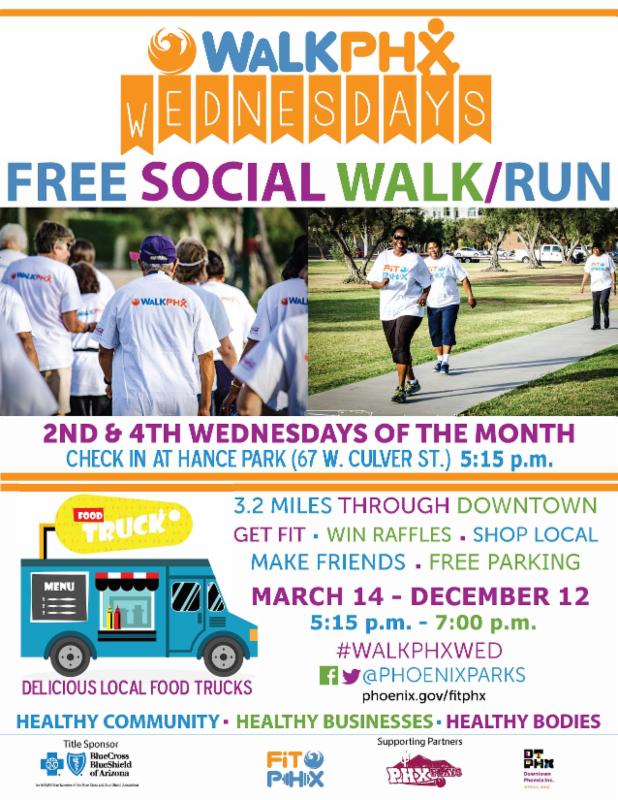 Join us for a brand new program in place of MMDTPHX! WalkPHX Wednesdays, sponsored by Blue Cross Blue Shield of Arizona, offers a FREE social/walk run through downtown Phoenix. This program launches on Wednesday, March 14th and will take place on the 2nd and 4th Wednesdays of the month at Margaret T. Hance Park (67 W. Culver St.). WalkPHX Wednesdays takes you on a 3.2-mile loop through Downtown Phoenix, and through three downtown Phoenix Parks. On the 2nd and 4th Wednesday of the month, enjoy rotating food trucks at Margaret T. Hance Park and get a delicious taste of local food, while socializing with other community members who are trying to get fit and healthy just like you. Get fit, win raffles, make friends. FREE parking. Click here to register today!
To learn more about our many programs and opportunities,
SaveSave
GET OUT and get moving
GET OUT with friends and family
GET OUT to support our community
What to Expect
MMDT will not take place on Christmas Day or New Years Day 2017.
Check-in at The Park, 3 South Second St. 5:15 pm to 6:30. If you park in the Collier Center garage, have your ticket validated at The Park, for up to 2 1/2 hours of free parking.
Don't wait in line…register anytime or check-in (after 3:00 pm) online from home or your smartphone. You register only once, then check-in is so easy.
Already checked in? Good move!
Get your MMDTPHX hand stamp…your ID for restaurant discounts…click here.
Walk or run anytime. We provide a route guide. Route is 3.3 miles, plus a 1.8-mile extension for the runner who wants more distance.
6:45 pm…Closing ceremony, awards and a weekly free raffle…gift certificates for local restaurants/businesses and Sole Sports Running.
We track attendance…earn free incentive awards…click here. Awards presented at closing ceremony.
Click here for route guide.
Area restaurants offer discounts on Monday evenings with your MMDTPHX hand stamp. Click here for discount details.
SAFETY FIRST!!! Please obey all traffic signals…this is not a race. It's a healthy social occasion.
ENJOY!!